7 Color LED Therapy Photon Mask You Want TO Know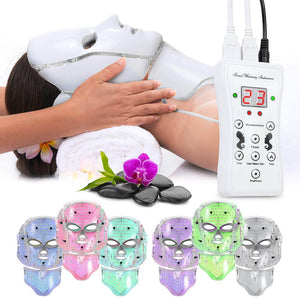 Everyone attaches great importance to the health of their skin.
After a lot of people's attempts, led therapy photon masks can effectively help us treat
skin problems
, but not everyone knows it well, so I listed some people's concerns, hoping to help our buyers.
What is the best way to clean the LED mask after use?
Answer:
1. Properly unplug the led face mask by holding the plug and removing it from the AC outlet.
2. After each use, disinfect the mask with 70% alcohol using a soft cloth.
3. Immediately dry off any moisture, chemicals or water on the device.
4. Always keep the device clean and sterilized.
5. Store the device in a dry place.
Can you use all 7 lights?
Answer: yes, but not all at once. the purple does the red and blue light together but I lile to do them seperately.
How long do you stay on each level?
Answer: The LED skin rejuvenation mask is effective at all intensity levels including the lowest setting. It is not necessary to use the highest power level to achieve maximum results.
The power level vary on different person, start with lowest setting and raise the power level gradually to obtain optimal result.
10-15 minutes for each treatment and 3-4 treatment a week, reduce to 1-2 treatment a week once the result shown.
I m not sure. I want to buy this product but is this really work?.Because i don't want to buy bad product.Is this product really worth to buy?
Answer: An advanced esthetician influencer on youtube recommended this product. Light therapy definitely works as long as you do your research to determine what color light works for your individual needs and if you use it consistently. This mask feels heavy on my face and is not a perfect fit for my small features. I use the mask while lying down & hold the mask an inch away from my face so it doesn't make marks or pull on my eyes.
Does this get to the neck and chin areas that tend to loose their elasticity as well?
Answer: Not really. If you want to do neck, you would have to pull mask down from face and put on neck. You have to take all jewelry off as it will get hot.
Does this item reduce dark circles?
Answer: The green light of the LED photodynamic mask could help weakens dark spots.
Does this have lights on the nose ?
Answer: Yes the entire mask has the led lights inside
Can my wife still continue using her regular daily skin regimen after using this led mask?
Answer: Yes, regular daily skin regimen is recommended to be used with the led mask treatment in order to maximize the result.
Does this use infared light as well?
Answer: This device does not utilize Infared Technology, the lights are emitted by LED Light bulbs.
Do you use the mask first or do your skin care routine first and then mask?
Answer: Clean face with no moisturizer then mask then follow with moisturizer.
Can you use more than one color light at a time?
Answer: No, you must choose one of the 7 colors to use singularly for a certain duration of time.
How old should you be to use this product?
Answer: There are no guidelines listed on the product, but I have a teenaged friend (17 years old) who uses the blue lights for acne with no harmful effects after almost a year of use.
What is the weight of this mask please?
Answer:Feels very heavy on the nose. The trick is to lie down and not wear the strap or else it'll feel very tight and heavy.
What color do you use for dark spots from sun damage?
Answer: It is suggested that to use the yellow light to treat dark spots.
I do not have acne but have enlarged pores. What color therapy should i use to reduce the pore size on my face?
Answer: The general recommendation for reducing pores is the red light. It works, but not quickly. You will notice a difference in a few weeks if you use the light consistently. What I have found that works quickly to reduce pore size is silicone tape, the kind used for scars - leave it on the area overnight and you'll see a difference within a couple of days.
Does this work for cystic acne? And the scarring left from it?
Answer: The blue light from the LED photon mask can help to reduce cystic acne and even tighten skin that has loosened. It can quickly inhibit inflammation and possibly even destroy harmful bacteria. Also, the green light can help to smooth wrinkles and cure wounds.

Finally, if you have facial skin problems, you can try this therapy photon mask. Although it is not useful for everyone, at least it is safe and does not damage your skin.
Leave a comment
Comments will be approved before showing up.