Nuface microcurrent facial device which you can't miss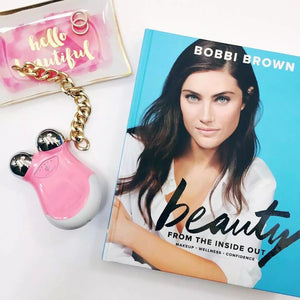 Nuface is an FDA certified microcurrent hand held face firmer. It's small, portable and recommended by many stars, you can also find many videos about nuface, so many people buy it. So does Nuface really works? Some people think nuface is too expensive. Is there a device like nuface, but the price is lower? Here's what I've sorted out for buyers doubt.
Q1: How does Nuface microcurrent work?
A1: Nuface's working principle is to stimulate the dermis with micro current and secrete ATP which needed for collagen production, so as to achieve skin firmness, clear facial contour and fade fine lines and wrinkles. Nuface is more suitable for women who want to prevent wrinkles or fade wrinkles due to their sagging and elastic skin.
Q2: Nuface how to use on face ?
A2:
Before you begin, charge the NuFACE Trinity Device for a full 12 hours or 16 hours for the NuFACE mini.


Step 1: Prep

Cleanse the skin with an oil-free cleanser, removing any makeup, oils and impurities and apply the NuFACE Gel Primer to the left cheek area. Apply the gel in a mask-like layer so that the skin appears wet. Press the on/off button to power device on. Press the intensity control button until you reach the maximum level. Intensity can be adjusted for comfort at any time.


Step 2: Lift

Place both spheres on position one and glide to the lower ear until the beep sounds. You will hear the audible treatment timer beep every five seconds. Move to position two and glide. Move to position three and glide. Return to position one and repeat the sequence two more times.

Apply the gel primer above the left brow. Place both spheres on position one and slowly glide toward your hairline until the beep sounds. Move to position two and glide. Move to position three and glide. Return to position one and repeat the sequence two more times.

Compare the treated side of the face to the untreated side and look for improvement in the brow, cheekbone and jawline areas. Now apply the Gel Primer to the other side of the face and continue the treatment.


Step 3: Finish

Power off the device and place on the charging cradle after every treatment. Remove the Gel Primer with a damp cloth and apply your favorite NuFACE serum or continue with your normal skin care routine.

Use five minutes a day five times a week for the first 60 days. After 60 days, use two to three times a week to maintain the results.
Q3: can nuface be used on the neck and on the eye? 
A3: Do Not Use the NuFACE Device on:
      • Breast area
      • Eye area (circular muscle within the orbital rim)
      • Mid-line of neck (bone of neck)
      • Groin area
Q4. Who should not be used The NuFACE Trinity Device? And is nuface dangerous?
A4:
• Children
• Pregnant Women
• People subject to seizures
• People with cancer/tumors
• People with a cardiac pacemaker
• People with implanted defibrillators/stimulators
• People with electronic implanted devices
If you have any medical concerns, such as a severe medical illness, epilepsy or seizures, or recent facial surgery, please consult your doctor before using the NuFACE Trinity Device.
Electronic monitoring equipment (such as ECG monitors and ECG alarms) may not operate properly when the NuFACE Trinity Device is in use.
The NuFACE Trinity Device should only be used on normal, intact skin.
Stimulation should not be applied over, or in proximity to cancerous lesions, or applied over swollen, infected, or inflamed areas or skin eruptions, e.g., phlebitis, thrombophlebitis, broken capillaries, varicose veins, etc. Men should shave before use as hair can interfere with the conductivity of the spheres. Facial area under a beard or mustache cannot be treated.
Potential adverse reactions may include skin irritation or redness. For adult use only.
Keep out of reach of children.
Do not apply stimulation across your chest as the introduction of electrical current into the chest may cause rhythm disturbances to your heart, which could be lethal.
The long-term effects of stimulation are not known.
Q5: Can nuface burn your skin? Or can nuface cause broken capillaries? 
First you need to use it in the right place.
In addition, nuface is FDA certified product, and its power is strictly limited to a safe area.
Third, the use time of each time should not be too long.
Q6: nuface how many times a week? And uface how many times a day?
A6: When you first get it, you're supposed to use it six days a week for the first two months, and after that you can cut back to a few times a week. You only need to use it five minutes a day, but you can add on a few extra holds in other areas of your face.
Q7: Where to buy Nuface?
A7: You can buy on website mynuface.com or search on amazon.
Q8: How about nuface with aloe vera gel? Does have nuface conductive gel alternative?
A8: The first step for nuface and other micro current devices is to introduce the micro current into the skin and slide it gently at the same time. It ensures maximum efficacy without discomfort. Besides Nuface gel, you can try our professional microcurrent massage gel, and it will have the same effect.
Q9:  Nuface is very expensive. Do you have a replacement devices like nuface?
A9: Nuface's price is very high for many people, But they also want to have their own microcurrent facial machine. Here I recommend Feipushi microcurrent  device, which is a microcurrent facial beauty device designed according to Nuface Mini. It uses the same microcurrent technology as Nuface, and can accurately copy the micro current power of nuface, so as to ensure that the skin will not be damaged due to too much current and the effect will not be ineffective due to too little power.
Leave a comment
Comments will be approved before showing up.